Why a multi-channel content marketing campaign delivers the best results
The printed word isn't dead, no matter how many bookstore obituaries we read. That's why multi-channel content marketing campaigns, which combine print and digital marketing, get the best results every time. We've talked before about how community colleges still rely on print to reach certain target demographics, even though an online presence has become indispensable. But how can you effectively combine the print and digital marketing for your community college? It all comes down to unifying your mail and digital marketing, creating high quality content, and streamlining distribution.
Mail and digital are two sides of the same coin
Don't think about your print and digital campaigns as separate entities. Mail and digital advertising work best in tandem, each reinforcing the other. Say you've crafted the perfect mailing with a clear call to action and have purchased a good data list identifying your target audience, perhaps all the households in the area with a college-aged student. After the mailing has been sent, you can continue to target households with digital ads. Reinforcement is a powerful inducement to action.
By using IP targeting you can reach the exact households that received your first mailing. IP targeting matches IP addresses (a unique string of numbers that internet service providers assign to each household) to names and street addresses. This means the your digital and print advertisements are going to the same people. Every time a person in that household goes online, they see your ad reinforcing the call to action.
Content is king in print and digital marketing
In 2015 Gallup surveyed Americans and learned that a sizable minority of the population looked forward to checking the mail every day, despite having smart phones and email addresses. Four in ten people who responded to the survey said that they still enjoy getting their mail. Of course, not all mail is the same and people don't positively react to every kind of mail, as you can see from the chart below.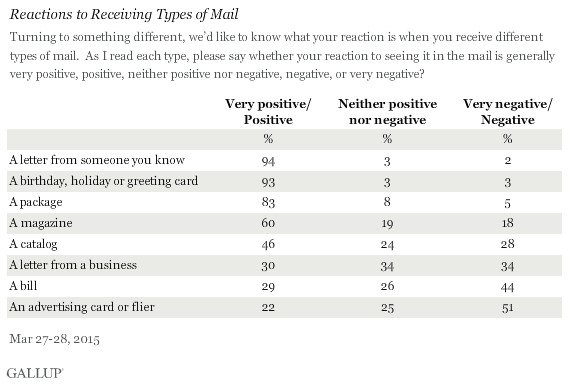 A slight majority of people, 51%, had a negative or very negative reaction to receiving an advertisement or flyer. That's a higher percentage of negative reactions than bills elicit! In contrast, 60% of people had a positive or very positive response to receiving a magazine. Interesting and entertaining content from a trusted source is a valuable resource, which is why a magazine is a tremendous way to engage with consumers.
Just as magazines evoke a different response than flyers, not all digital content is the same. Good digital content is well-written, substantive and has a clear emotional appeal. Consumers ruthlessly weed out intrusive or immaterial digital content and messages using spam filters and ad blockers. Still, the average American spends almost four hours a day viewing digital media. The lesson? A successful multi-channel marketing campaign must use high quality print and digital content.
Streamline your marketing campaign gets the most out of your content
An integrated print and digital campaign gets the most value from your content. First of all, quality content marketing can be distributed over multiple platforms simultaneously. This means it will have a broad and immediate impact. You can link a good article on Facebook, publish it in your college magazine, use it to create an email campaign, and feature it on your website. It's as economical a strategy as it is effective.
Digital marketing also improves ROI by giving real-time data about consumer behavior. By adding a digital wing to your marketing efforts, you can track engagement with your content, follow page views, social media shares, and viewer location. This in turn can refine your print marketing efforts. For instance, if you notice a lot of engagement online with content about your welding certification, you can follow that up with a targeted mailing.
Want some help from the professionals?
Integrating your print and digital marketing should be as easy as possible. Creating a content calendar, strategizing about your message, writing content, and designing your website and print publications all take time. The easier each of these tasks are the better, especially as time and resources are tight at most community colleges.
That's where Aperture Content Marketing comes in. We created a content library with over 800 articles about issues that you and your students care about. Then you can use our original CampaignBuilder to assemble multiple pieces of marketing material, including web, print and social media. Want to see how easy we make multi-channel marketing? Request a demonstration of our services today.