Community colleges are the new town square. They are places where citizens can gather and learn, where friendships are formed, and where individuals of all backgrounds find their purpose.
Nowhere is this new function more clearly seen than among senior citizens. The 65+ demographic is nearing retirement, but far from retreating from the world, they are looking for new ways to engage. They want classes to learn new skills, extra education as they launch their sunset careers, and opportunities to mentor the next generation. Your community college can show them how.
GUIDE SENIORS TO PROGRAMS THAT WILL HELP THEM THRIVE.
Many community colleges offer a range of programs designed specifically for this key demographic. They include health and fitness courses designed for older audiences, lifelong learning courses in popular subjects, classes that cover the dos and don'ts of retirement finances, and computer literacy programs.
However, the success of these programs relies on seniors knowing they exist. SeniorFocus can shine a light on everything community colleges have to offer.
What is SeniorFocus?
SeniorFocus is a new edition of our flagship publication CareerFocus, which has been used by community colleges nationwide for over two decades in promoting their programs and services. We use our proprietary CampaignBuilder software and Online Content Library of exclusive articles to deliver informative content marketing initiatives through our three primary content channels:
Direct-Mail Magazine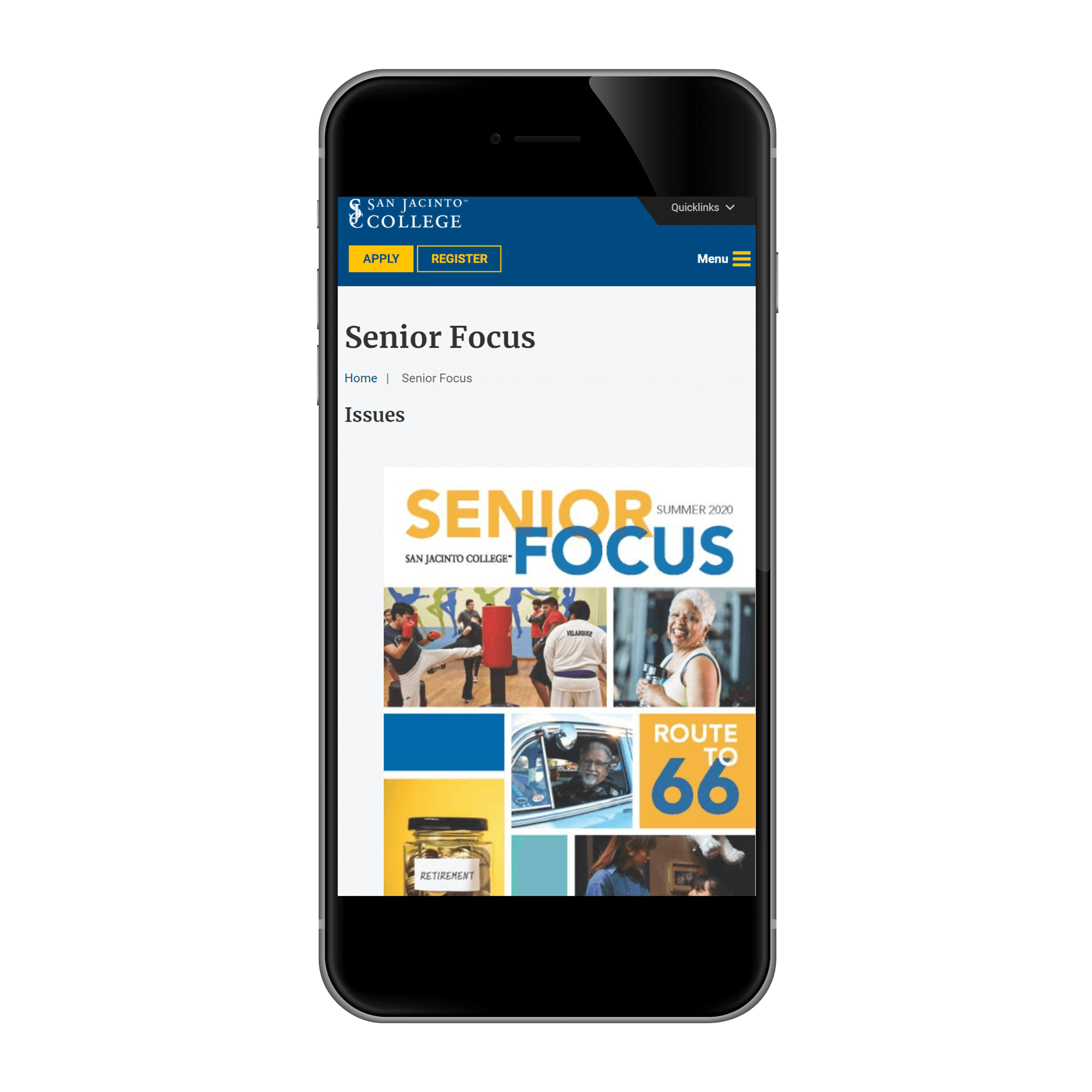 Mobile-Friendly Website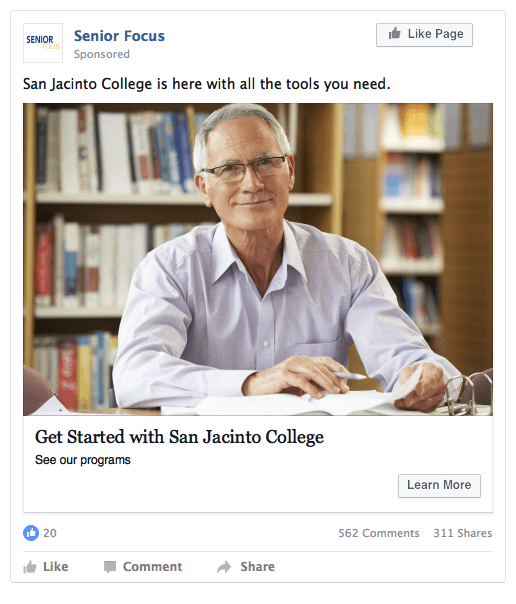 Social Media Campaign
TRUSTED BY
Community Colleges
WITH OVER
Quality reviewed
PUBLISHED
+
Content Marketing Campaigns
With nearly twenty years of experience helping community colleges market their programs, we've witnessed the effect our content has on public engagement. Community colleges have seen community support rise for their programs and services, as citizens come to learn more about the important role they play in the community.
Demonstrate the value of community colleges to older audiences.
Engaging older demographics is essential for community colleges to continue providing essential services in their area. Senior citizens form an important funding base, both as tax payers and potential donors. They are more likely to have spent many years living in the community, yet often feel that the community college is not meant for them.
SeniorFocus delivers thoughtful, informative articles through a multi-channel marketing approach.
Older demographics are tired of flashy advertising and empty slogans. More than a clever quip, they want long-form, meaningful content that gives them the thorough, well-researched information they crave. That's why our marketing efforts are so effective. Using our articles, your community college can:
Share course information about classes for seniors.
Demonstrate how other seniors are putting their new skills to practice.
Learn about the health benefits of fitness and lifelong learning.
Show seniors new ways to invest in their communities through volunteering and mentorship.
Community colleges nationwide have used our services to grow support.
Community colleges are an invaluable social center in their communities, and a critical source of support for senior populations.
However, many community colleges struggle to connect with the very citizens who need them most. That's where we come in.
Through selective, multi-channel content marketing, we deliver high-quality articles to senior citizens that inform, educate, and engage this demographic about the programs and services they value most. Our publications have a proven success rate, with many colleges relying on us as their primary marketing campaign.
We know that content is the key to bringing the right information to the right demographic. Let us spread your message.