Speaking honestly to students about their future
Good content marketing isn't just a sales pitch. It's a valuable source of information that helps the customer to make an informed decision. Customers who believe in your products because they made intelligent, informed decisions are your most powerful advocates. That's why content marketing is one of the most effective marketing strategies around today.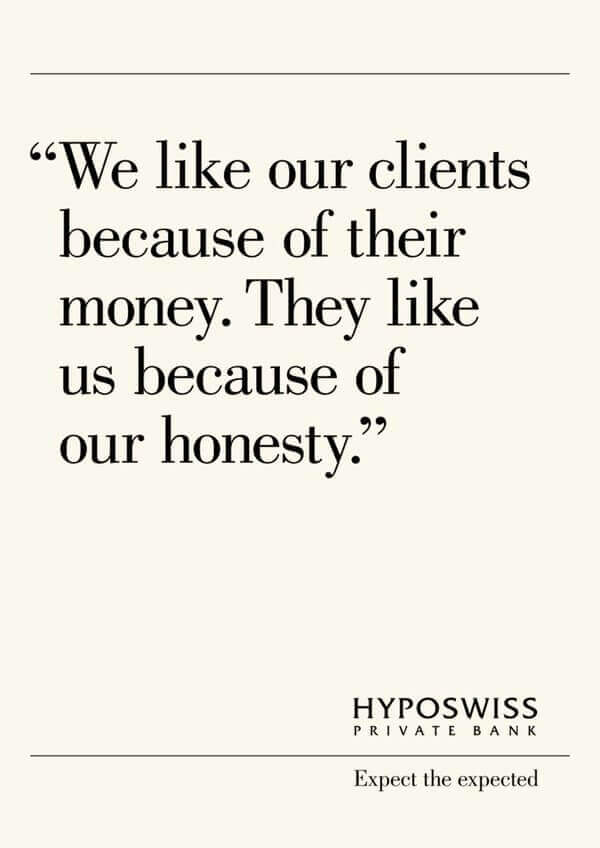 Nothing is more important in a good content marketing campaign than absolute honesty. If your reader determines that the information you're giving them is unreliable or untrue, that customer will be lost and the marketing campaign will fail. Successful marketing campaigns, like the "Expect the Expected" campaign by Hyposwiss Bank, prove that radical honesty can actually be more attractive and compelling than a sales pitch.
Community colleges are in a unique position because, as public institutions, they have an obligation to provide their community with honest information about the programs and services that are offered. Honest marketing in higher education is not just good business. It's living out the school's mission to provide students with the necessary information to make intelligent informed decisions.
Unlike proprietary schools, which are in business to generate revenue without consideration for graduation rates or students' accumulated debt, community colleges exist to serve students first. This means creating marketing campaigns that are directly focused on meeting the needs of prospective students, even as the school strives to reach it's target enrollment levels. Honest content marketing is the best way to do this.
Your content should feature personal narratives
An honest content marketing campaign must be encouraging but also inform potential students of the difficulty and challenge of the college experience. Completion rates at community college are still low. Students face financial, academic, and personal challenges as they try to complete their courses of study and, though many students take out loans, not every credential will turn into lucrative employment.
Personal narratives are an especially good way to capture the highs and lows of the college experience. True stories of real students can be a powerful positive example for the prospective student while at the same time honestly representing the challenges. Use your marketing to feature stories from student parents, older students, and other nontraditional students. Let them speak about their actual struggles and successes.
Your team should create content, not slogans
Honest content marketing takes time. Long form content is still the best way to help potential students understand the risks and benefits of obtaining a degree. Put your resources into creating articles, blog posts, infographics loaded with data, short video content, and anything that can inform and engage prospective students. The best content will have some emotional pull and well-researched statistics about degrees and careers.
This isn't to say that branding efforts are useless. A good slogan for your advertising is a fine thing to have. Still, non-traditional students especially want real information at their fingertips. Whether it's a blog post you share on your social media sites, an email newsletter, or print magazine, original content is the only way to satisfy the consumer demand for information.
Honest content marketing is a team sport
The marketing department is in charge of offering valuable information to students through the college website, social media, and print materials. However, this is not solely their responsibility. Individual academic departments, the admissions office, and financial aid and academic support staff are also important sources of information for students and prospective students.
What's more, these other departments are also helpful sources of information for the marketing department. English professors may be able to provide career information about jobs like technical writing, while counselors might know which students are most likely to drop out. By sharing resources, the college is better able to support current and prospective students with timely, honest and factual information.
Honesty is always the best policy
Marketing sometimes gets a bad name. There certainly are unscrupulous marketers selling bad products and leaving consumers feeling cynical and jaded. But, marketing at its best is just good communication. People should know about the opportunity that education presents and they should have good information about how a degree could help them reach their goals in life. They should also know about the potential difficulties involved, so that they can make the most informed decision possible. A good content marketing campaign can be a wonderful resource.
If constantly putting together solid, well-researched content sounds like too big of a job for your already overtaxed marketing department, turn to the experts. We've handled content campaigns for community colleges across the country, and already have everything that you need to quickly assemble attractive articles for your web and print publications. Contact us today for a demonstration of our services. We'll show you the difference honest and informative content makes.