For community colleges hoping to raise their enrollment rates, the right closing content is key.
It's no secret that community colleges are struggling to attract students to their programs. Even before the pandemic, the rate of enrollment in community colleges had been on a steady decline. At first glance, the situation appears dire—especially for colleges whose funding depends on the number of students signed up for classes.
However, recent research from Gallup on the state of higher education indicates that many adults not currently enrolled in higher education are interested in an associate degree or professional certificate. In other words, there's a significant body of prospective students who want to enroll in community college, but for some reason aren't.
There are a multitude of reasons why this might be the case, not all of which can be addressed by better marketing. But there is a basic marketing principle which can provide some insight into this failed connection: The Buyer's Journey.
The stages of the buyer's journey are as follows:
Awareness. The buyer has a pain point or an unfulfilled desire. They know they want something, but have yet to take any steps to address that need.
Consideration. The buyer has begun to explore options. At this stage, they may be aware of several possible solutions, and are weighing the pros and cons.
Decision. At this stage, the buyer has narrowed their options to a short list, but has yet to make their purchase, and may still decide not to make a purchase at all.
Satisfaction. Once a buyer has completed their journey, they assess their experience to determine whether they made the right decision.
The research results from Gallup indicate that many prospective students are stuck in the early stages of the buyer's journey. They're interested in community college, but for some reason aren't progressing further. We believe there's an important reason why, and it has to do with how the marketing content created by community colleges aligns with different stages of the buyer's journey.
1. The Buyer's Journey for Community Colleges.
If we were to map different kinds of marketing content to the community college buyer's journey, then it might look like this:
Awareness: Much of this content comes in the form of traditional marketing resources whose focus is on achieving brand saturation—for instance, billboard advertisements, television commercials, or branded merchandise. As indicated by the Gallup study statistics, most students aren't suffering from an awareness problem. They know that there is a community college in their region; the reasons behind their low enrollment rate lie elsewhere.
Consideration: Content marketing is especially well-suited to helping move students from the broad awareness stage through consideration, decisions, and even satisfaction. In fact, we've spent much of the past year writing about the importance of making the case for careers in community college marketing. Career-focused content broadly falls into the "consideration" stage. The purpose of this content is to help prospective students learn about their options and determine whether community college will help them achieve their life goals.
Decision: Content in this phase is what we call "closing content." Closing content speaks directly to the most pressing hesitations of prospective students: whether they can afford tuition fees, whether their schedule will be compatible with their day job, or whether they will have affordable childcare options while they attend classes.
Satisfaction: These marketing materials should confirm for students who have enrolled that their decision was the right one. This might include information about campus life, student discounts, or work placement opportunities.
2. Where do current community college marketing funnels fall short?
Many community colleges struggle with their marketing in one of two ways. Either their marketing resources are stretched so thin that they aren't able to market much at all, or their materials focus on the "nice-to-haves" of campus life. As we've already covered, this material is helpful for students who have already made up their minds, but isn't effective at winning over new students.
Because community colleges generally have good brand awareness in their communities, the places where they are mostly likely to be missing content are at the consideration and decision phases of the buyer's journey.
The consideration phase is often especially difficult, because it has the broadest range of content. Students in the consideration phase have moved from being interested in the community college in general to thinking about specific programs—of which there are dozens. The work involved in creating detailed content for every program is beyond the capacity of many community college marketing departments, which is why we've put so much work into developing a content library of researched articles to help bridge that gap.
However, while the consideration stage may do the most work in persuading a prospective student that community college is a good choice for their careers, it's not the content that's going to address anxieties and help students believe that they will be able to finish their program.
3. Effective closing content should be direct, actionable, and accessible.
The greatest gains community colleges stand to make in raising their enrollment rates lie with students who are all but committed to attending. These are students, like those described in the Pew survey, who have considered enrolling in courses but who are held back by some significant real-life consideration—and evidence indicates there are a lot of them.
More importantly, the factors holding these students back from enrollment are often resolvable. For instance, recent reporting from the New York Times indicates that many eligible students fail to fill out the Federal Application for Student Aid (FAFSA), leaving thousands of dollars in tuition grants on the table. In many cases, the students who are failing to turn in the form are lower income students, or the first generation of their family to attend college, implying that one of the barriers preventing them from enrolling in college stems from a lack of know-how when it comes to navigating higher education.
In other cases, students may be making bad assumptions about the resources available to them. For instance, how many students would enroll if they were aware that their community college offered childcare grants, or provided free transportation to and from campus?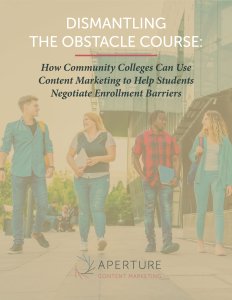 To increase enrollment, community colleges should review these barriers to entry, and create marketing campaigns with the direct intent of improving access by providing clear, actionable information about steps students can take to make completing a degree program achievable.
Through our work with community colleges over the years, we understand that those running the marketing departments at these institutions have a closer insight than most into the enrollment barriers facing students. We also know that understanding the problem is not the same as having a solution. That's where we hope to be of service.
In our latest white paper, we speak directly to the issue of enrollment barriers, describing many of the most common, and discussing ways that content marketing can be an effective tool for lowering the barriers—or removing them altogether.
Download our white paper, "Dismantling the Obstacle Course: How Community Colleges Can Use Content Marketing to Help Students Negotiate Enrollment Barriers," to learn more about how marketing can be a solution to some of most intransigent enrollment challenges for community colleges.