Low enrollment is a problem with a solution
Community colleges across the country have now faced several years of declining enrollment. What first appeared to be a temporary pandemic-related bump in the road is turning into an existential crisis. With funding tied to enrollment numbers, community colleges need to reverse the trend before a vicious cycle sets in.
The good news is that it's not too late to correct course.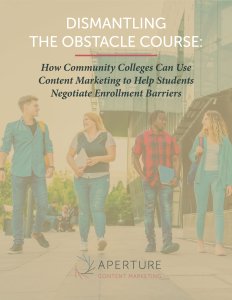 The body of prospective students who would benefit from a community college education is still large. When asked, many of them cite barriers to enrollment that include lack of financial aid, the need for childcare support, and conflicts with work schedules. Government programs and community colleges often offer resources to address these challenges—but students don't hear about them until they've already made the decision to enroll.
Content marketing can help community colleges get the word out earlier. By directing prospective students toward resources that would make attendance possible, community colleges can reverse the enrollment decline and revitalize their campuses.
Read all about this and more in our latest white paper, "Dismantling the Obstacle Course: How Community Colleges Can Use Content Marketing to Help Students Negotiate Enrollment Barriers."
Dismantling the Obstacle Course: How Community Colleges Can Use Content Marketing to Help Students Negotiate Enrollment Barriers