Tuition assistance programs for community college are growing. This is good news for students and colleges alike. There are now 348 local and 33 statewide Promise programs, with other new initiatives coming online. States, localities and nonprofits are all getting involved. For good reason! As the economy and job market continue to change, the need for career training is clear.
However, there is a disconnect between the number of potential students who can gain a credential for free (or substantially reduced tuition) and those applying. Consider the example of Michigan—their new  program is typical and is, like many others, under-promoted.  
Michigan Reconnect, enacted in 2021, aims to up-skill and train the workforce of the future. Under the program, the state will provide free community college education to qualified residents 25 or older within their district. To be eligible, students must have been a state resident for at least one year, have a high school diploma or equivalent, must complete the FAFSA and an application, and cannot already have a degree.
Michigan, like most of the US, faces a critical shortage of trained workers. The pandemic has exacerbated this problem. Reconnect will help the state "grow their own" skilled workforce and help Michiganders increase their earnings. Consider the following two statistics:
In Michigan, those with a two-year degree earn, on average, $7,500 more per year than those without a degree.
Seventy-five percent of Michigan jobs require an education beyond high school.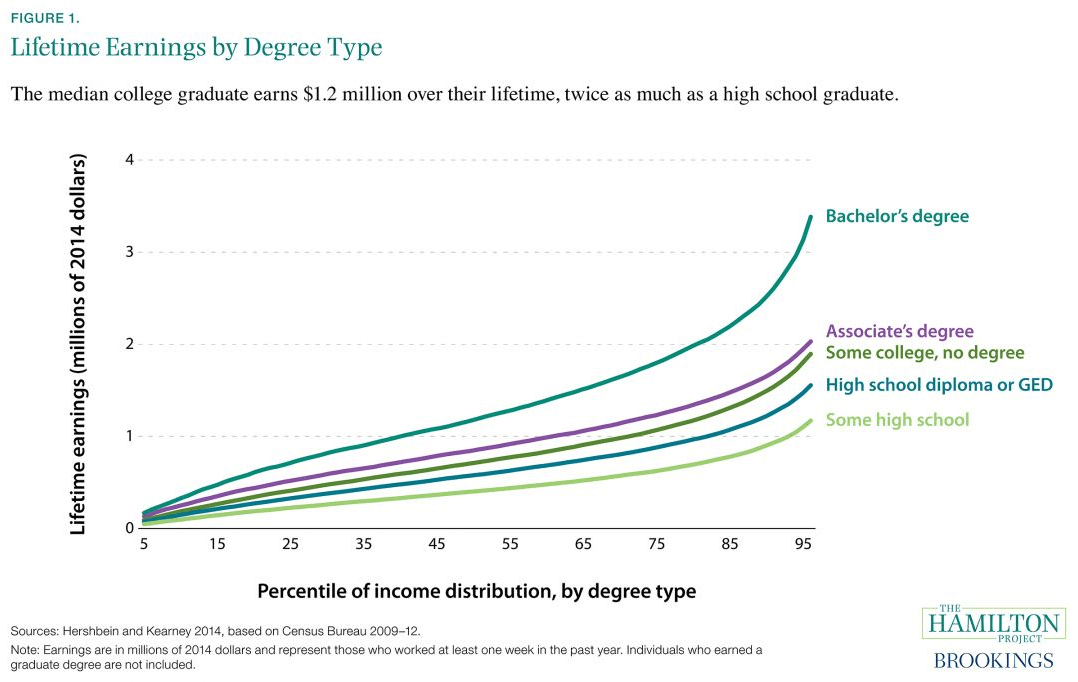 These are compelling reasons for older students to take the offer. For example, students are eligible even if they previously defaulted on a student loan or failed-out their first time trying for a degree. Michigan Reconnect is literally a clean slate and a second chance. Such programs can potentially reverse declines in community college enrollment: a win-win situation.
But if prospective students do not know that they qualify, do not know how to apply, or are simply unaware that such a program even exists, then it could be a missed opportunity—both for potential students and for our community colleges.
How is Michigan Reconnect marketed?
To help provide some concrete suggestions, Aperture has assessed the outreach associated with Michigan Reconnect. We started with the Michigan government's program page. This page is largely informative, designed more to provide a reference point to community colleges and less to educate potential students themselves. While many community colleges in Michigan have followed this page closely, with some copying the page information directly to build their own, it's not clear how much of the community colleges' targeted demographics are visiting—or aware of—this page or the program itself.
The Reconnect website dives into the program details right off the bat. So, a student who is on this website to learn about Michigan Reconnect would have all the information they need to apply to the program. But this raises a few issues. 
If our local communities are unaware of Michigan Reconnect (or any other such program) they will not be visiting the program's website for more information for obvious reasons—they don't know it exists.
Bay College's Director of Financial Aid Ruth Carlson identified another concern. She explained to Aperture Content Marketing,"The State of Michigan ran many campaigns through TV, Facebook, social media, and billboards about Michigan Reconnect and urging people to apply. They have done a significant amount of outreach. However, I'm not sure it is completely getting through. Many people may not realize that they are eligible. A billboard requires research." 
This is an excellent point. Knowing the program exists is in itself no guarantee that prospective students put two-and-two together and pursue an application. Ms. Carlson emphasizes this point, asking, "Are they putting it together that Michigan Reconnect could be 'something for me.'?" As a result, the community colleges are often the messenger. Ms. Carlson concluded that a helpful tool would be, "a publication, an article, would be something more people could read up on and might be able to see 'this could be for me.' They could see it's not too late and, as a working adult, there are still options."
To tackle the problem of messaging, we have developed two potential "personas" to help identify target audiences and tailor the approach. These are the "prospecting" student and the "unaware" potential student. This approach can help us hone-in on reaching our communities and simultaneously boosting our schools' enrollment.
Attracting the prospecting student.
The prospecting student is a person who is already considering going back to college. They may be undecided about how they accomplish this. Should they attend full-time or part-time? Should they tackle a four-year institution or take the community college route? Perhaps they are decided on community college but stalling on enrolling because they're undecided on a major or career path, or they haven't yet figured out how they will pay for school. The main characteristic of this demographic is that they have already decided to go back to school.
Schools can effectively educate these prospects by demonstrating the benefits and requirements of Michigan Reconnect. The prospecting student will certainly have questions. Marketing material for this demographic should explain how to apply, address transfer programs, and drive home the case for community college.
Winning the "unaware" potential student.
The unaware student is a person who has not even considered enrolling at their local community college. This may be a worker in an unfulfilling or low-wage job who hasn't considered further education. Oftentimes these individuals feel the hurdles to advancement are insurmountable, they may have student loan debt from a prior bad experience. In short, an "unaware" person has never heard of Michigan Reconnect because enrolling isn't even on their radar.
Much of the current messaging surrounding Reconnect—like the program's website itself—will only reach students who are already considering a degree. But with broad community-based marketing, schools can reach them. The next step is to demonstrate the connection between a degree or certificate and an improved quality of life.
The key is helping this demographic envision a career that such a degree would help them achieve. We know that many "unaware" community college students, especially older students who need financial assistance, are grappling with significant barriers to enrollment, including day jobs, family obligations, and financial challenges. To attract these students, community colleges need to avoid assuming that the value of a degree is obvious, and instead should make a strong case using data.
Ms. Carlson reflected on the wide numbers of people in Michigan who qualify for the substantial help that comes with Michigan Reconnect, but yet don't apply. She said, "There is a gap here. You can feel it, there's not enough in the program. If they don't take the steps to apply, they don't realize they could get it. Like FAFSA, people didn't realize they should apply. They didn't think it pertained to them. We need an approach that can open that door. Many individuals face drawbacks–sometimes it's not the right time in life to go back to school. Some do apply, but then life hits them in the face. You have to be able to fit college in." 
For these reasons, the quality of marketing materials is critical. Marketing materials are most effective when they include clear identifying qualifiers for the program and motivate their audience. Schools  need to show that the community college is a welcoming resource which can assist them to meet their goals and be successful. It is very important to prominently display contact information for the financial aid department, the counseling department, tutors, childcare facilities and any other similar resource.
How do we most effectively make the case for post-secondary education? In a word: Careers.
Both of these personas are highly concerned with outcomes. What does the data say about job prospects. What will a degree or certification provide them? How much will they make? Students need these statistics so that they can make informed decisions about their degree and certification options. For many students, this information is essential to take advantage of the resources available and decide on a career path. 
To market a program like Michigan Reconnect successfully—or any other financial aid program—community colleges should be laser-focused on showcasing how achieving a degree will improve a student's life.