Colleges across the country are continuing to face new challenges in the pandemic era. Marketing and communications departments are responding to a host of new issues, including novel health and safety concerns, the transition to online learning, and shifting enrollment metrics.
Now more than ever, colleges must be able to quickly and correctly address the questions and concerns of not just current students, but prospective students and families as well. Such thoughtful messaging nurtures relationships, conveys stability to maintain enrollment, and recruits new students.
Here's how one college approached the rapidly changing situation to meet the needs of their community.
"Authentic content helps build and nurture that relationship with our audience."
"I've always been a supporter of content marketing, especially at the community college level," said Daniel Ramirez, director of marketing and public relations at South Texas College. "We're not selling a five-dollar pizza. We're really asking people to make an investment, an investment in themselves. That requires them to give up a lot, and not just the initial cost. They're going to be sacrificing time with family and friends, and they're going to have to make compromises. So it's important that when we're trying to connect with them through their journey, that we are providing them with content that is relevant to where they are in that timeframe."
When the pandemic hit, STC held emergency content planning and strategy meetings with Aperture Content Marketing. The college wanted their community's wellbeing front and center in their campaign. They wanted to address community concerns while underscoring their overall message and goals. They needed evergreen content that could serve both needs. 
In concert with their official pandemic-related communications, STC promoted "Tips for de-stressing in a stressful time," an article written by Aperture, on their school's news page. [Contact us to see more of Aperture's content and discuss your school's content marketing strategy]
"The message is not, 'Come to STC, we're great, we're the best,'" Daniel said. "It's about helping them understand the value education will bring to them, to their family, and hopefully about establishing a new way of life. Providing that content establishes the institution as a trusted source that's willing to give you something, without asking for anything in return. So when we do start the softer sell (or even the harder sell!) they already have familiarity with us. They can trust us because this content is not only for our current students. 'Tips and tricks for de-stressing' is for anybody. That's what content marketing has allowed us to do: provide education not just to those who come to us, but really to the whole community."
"Knowing we have a library of content at our disposal makes our life a lot easier."
Year round, content creators at Aperture identify the most pressing needs of community college marketers and their target audiences and write pieces to meet those needs. When the pandemic hit, Daniel turned to Aperture's content library.
"One of the things I really appreciate about Aperture, and it's one of the things we're going to elevate moving into year two of our content marketing campaigns, is content curation," Daniel said. "It's not just about creating content on our own. We're a large team, but right now, we only have two and a half writers. While I and others on my team can write, we always have other responsibilities. That's a challenge that I think all community colleges face. They don't have a newsroom of writers that can produce content. They don't have people sitting at their desks, just searching for content."
Because this content is readily available, STC's marketing department was able to shift gears and focus on what was important, instead of spending valuable time and resources writing and editing. Click here to see more of Aperture's recent content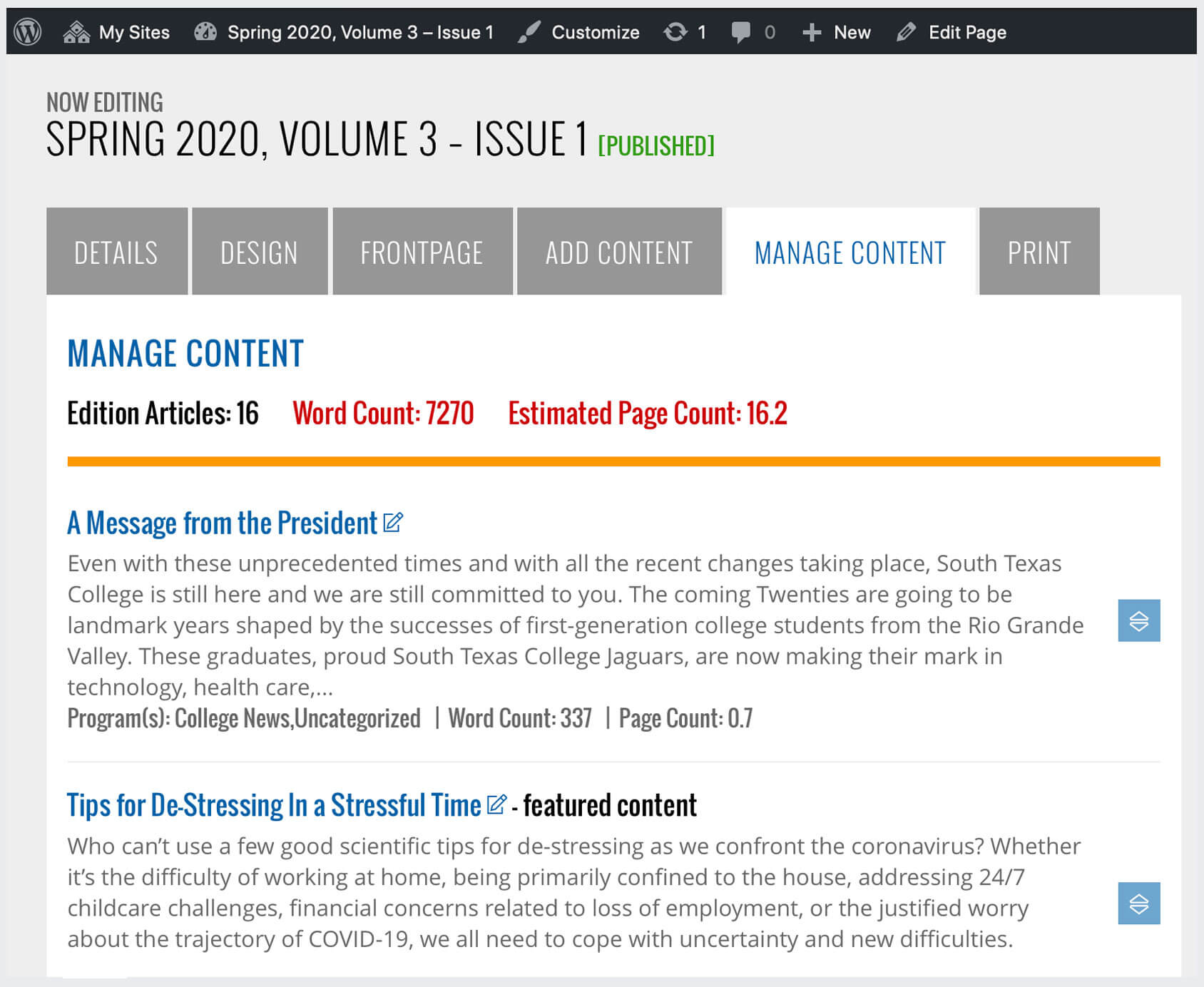 A reputable source for content
Daniel explained that before developing a campaign with Aperture, STC spent most of its time locating and aggregating content to be used through the school's official channels. "We would use that as the foundation for a lot of this content that we knew we had to create or curate from a reputable source. And that is one of the best things Aperture provides is that reputable source. Aperture works with community colleges. They know our audiences, they know our successes and struggles, and those of our audiences as well. Knowing that we could go to Aperture's resource to curate and pull this content, it's a time saver. It's easily worth its weight in gold because now we don't have to have our writers doing the research and developing content. We know we can take this content and, with a few quick adaptations, have something relevant and shareable to our sites. We're going to expand on that more this year."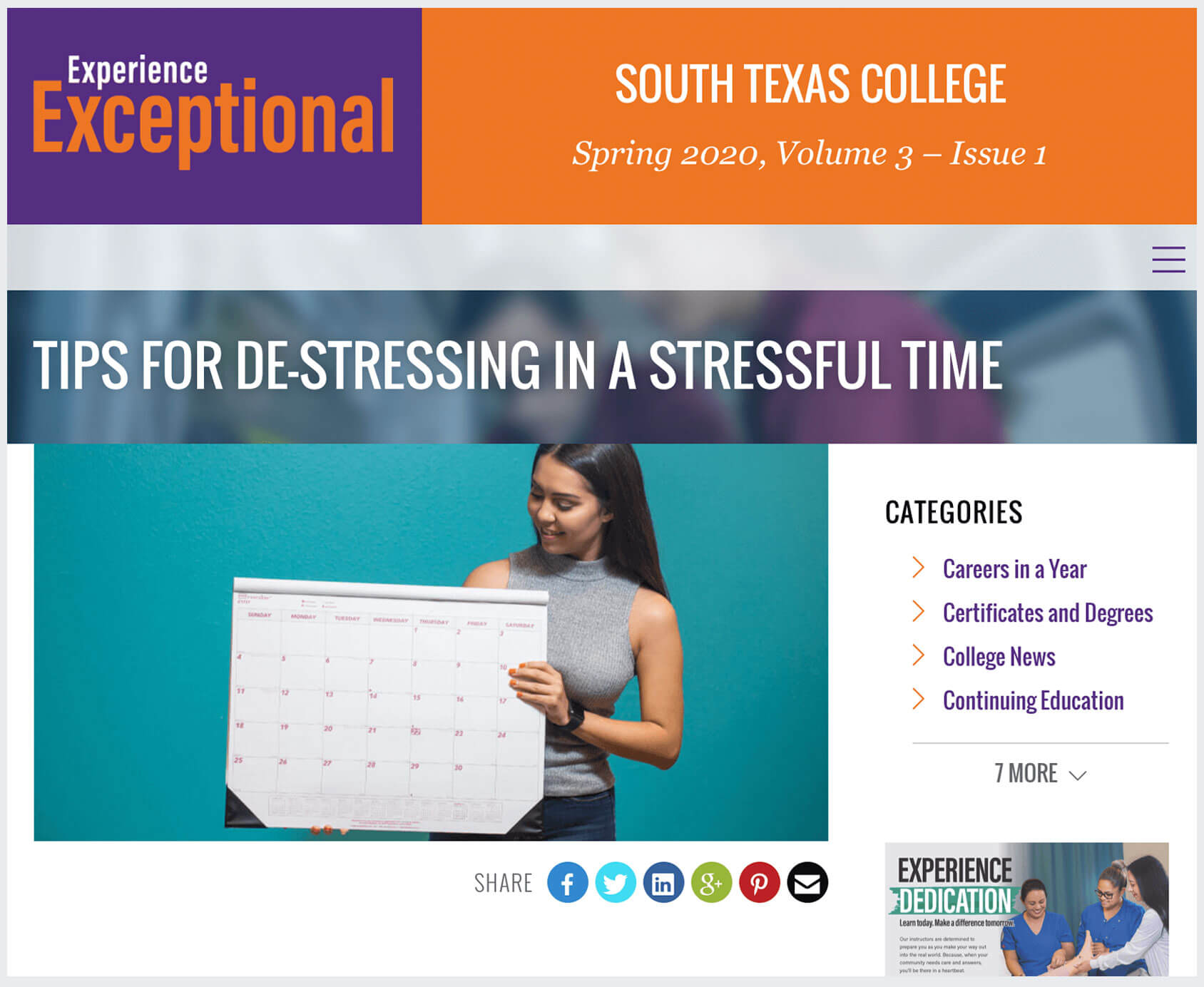 "Our social media success is built off our content."
Responding quickly and engaging with their community in a meaningful way enabled STC to plan and adjust their campaign to suit the evolving situation. This included student-focused content as well as necessary information about the school's proactive infection control measures. A group of engaging content pieces were then selected for the school's microsite.
This year, one of STC's goals was to unify their social media strategy internally and to increase their digital presence. While they have been able to invest in tools to make this task easier, Daniel said, "Once again, it starts with the content. Expanding impressions and engagement is important, and our social media success is built off our content. Knowing we have a library of content at our disposal makes our life a lot easier."
This is precisely what STC did, pushing out "Tips for de-stressing" across multiple channels. Once posted to their school's website, they took it to social media. The ready-made content—relevant, upbeat, and useful to their audience–was leveraged to create authentic and organic engagement on Facebook.
Daniel noted that while strategically-placed billboards and other high-visibility ads serve a purpose, that "there are several touch points for students to consider an institution. We try to develop a strategy that is pivotable." Each multi-channel campaign with Aperture hits many key "touch points" for communities and potential students.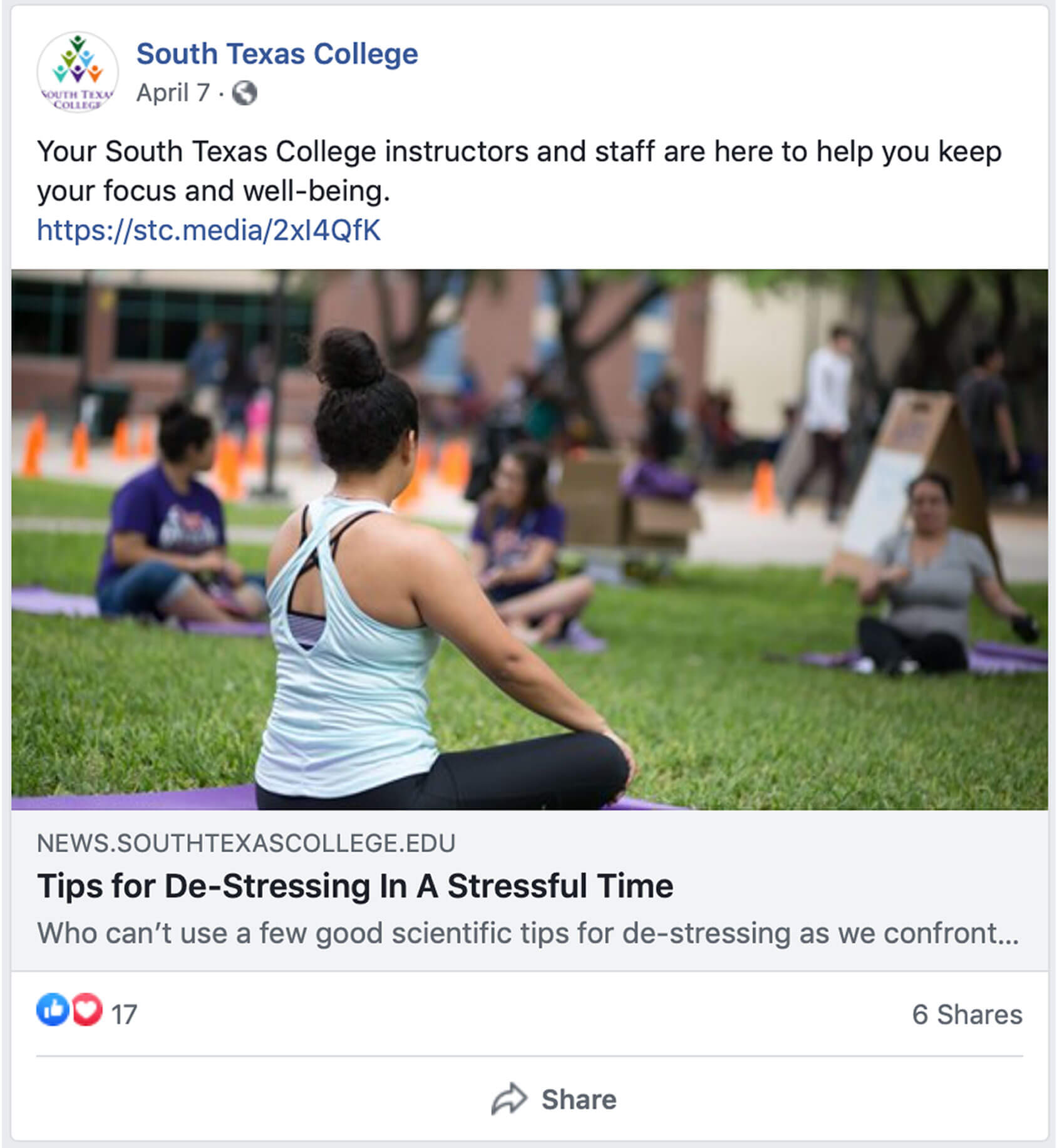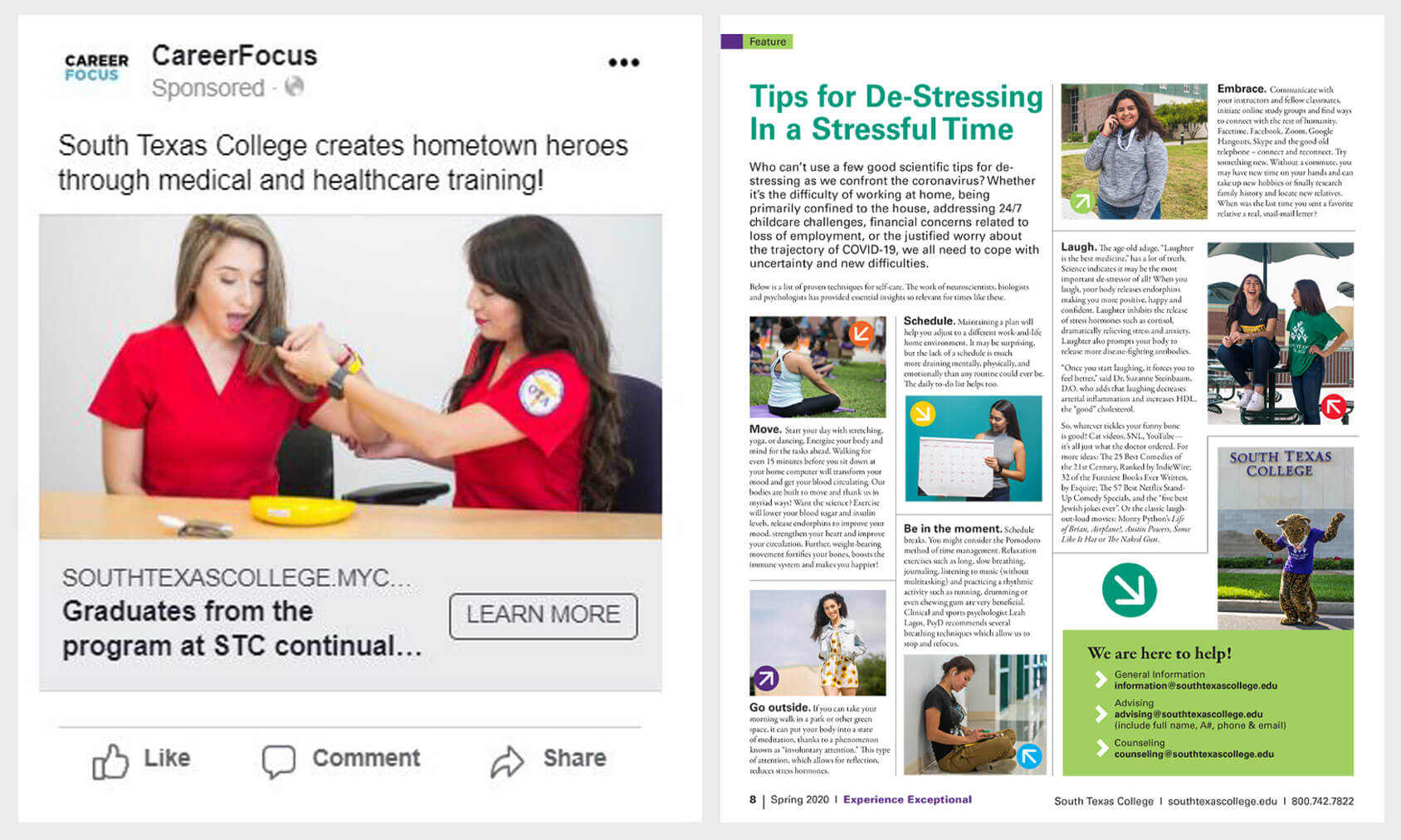 What did South Texas achieve?
South Texas College managed to turn what could have been a marketing and public relations nightmare into a way of further establishing themselves as a resource, an institution that their community could trust through thick and thin. Having a content marketing strategy made the process manageable in tough times—not just for STC, but for their community, too.
They knew they couldn't control the environment, so they used content to set the narrative. They reminded their communities that despite the trauma of a pandemic, the school remained a source of information, assistance and social uplift.
If you're interested in finding out how your school can use this collaborative content to strengthen the trust your communities have in you, let us know. Aperture Content Marketing would be happy to meet with you or your marketing department and provide a free consultation.