Mike Gavin, Director of Marketing and Community Relations
Having a shared content marketing strategy allowed Mike and his team at Isothermal to respond quickly when it became clear that there was a danger of a steep enrollment decline. He knew that there was a window of opportunity to capture a layer of students who weren't interested in paying the four-year state college prices without getting the "real" four-year experience—but he knew he had to act fast.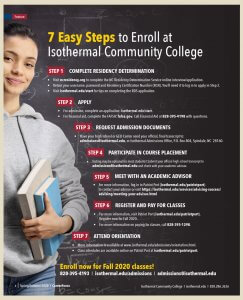 "We've used the services of Aperture Content Marketing for about a decade now and have found it to be one of the most effective yet easy ways to create a quality publication for wide distribution in our service area," he said. "At the start of the pandemic there were so many colleges who were struggling with enrollment. So one of the things we highlighted in our CareerFocus last year and earlier this spring was, why pay for the four-year experience if you're not going to get the four-year experience?
"North Carolina has 58 community colleges and last fall we were one of only four that were able to maintain enrollment, instead of seeing a decrease. We pushed very hard to catch a lot of those students who weren't going to go back to a four-year school in the fall. CareerFocus absolutely assisted with that. It is a very critical part of what we do and how we get the word out about what's going on at the college and why you should be here."
Quality content on a tight budget
One of the hurdles that Mike had to face was one which many community colleges have in common: ambitious goals and a small budget. Mike is a one-man show in his marketing department, so prioritizing quality content is a must.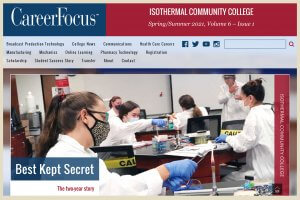 "Let's face it: most community colleges operate with limited resources and Aperture makes it possible to have a full editorial and design staff at your fingertips," he said. "It takes a team to make a CareerFocus campaign, but from my end it's just one person. I view it as such a critical part of our mix. As community college marketers, we're all engaged in social media advertising, in print, television, radio, and so many different ways to reach potential students and serve our community."
Mike understood that while media and platform considerations are important, the ability of the marketing department to answer the questions of its community was primary. By utilizing the library of content, he was able to showcase the career and job opportunities available at Isothermal without breaking the bank—or reinventing the wheel.
The collaborative approach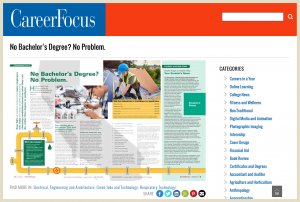 At Aperture Content Marketing, our clients have access to a full library of content that is easily customizable for any community college. "What I love most about Aperture's platform is looking at that library and getting ideas from seeing what all of our sister colleges are doing," Mike said. "I can take something that was written last semester in Iowa, turn it around with minimal effort, and adapt it to something that's going on in western North Carolina. So the consortium part of the partnership really helps you leverage a lot of expertise. You look at an infographic that someone's done, near or far away, and it just really is a great way to stimulate your creativity. We've had success and such a great response with our editions over the years. I think people really like to get something in the mail that is relevant and has good content.
"Another great tool is taking that microsite and being able to repost this content across all of our school's social media channels. We all know that consistency and good content are two of the biggest drivers in the social media world. So if I can get another dozen or so articles to push out every year, that's really contributing to that mix."